1949 Ford Custom Woody Station Wagon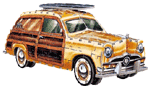 Manufacturer:
Wrebbit
Number of pieces:
350
Difficulty Level:
Average
Completed Puzzle:
Yes
2
Technical Diagram:
test
The 1949 Ford was revolutionary when it was introduced in the spring of that year. After the second World War, Ford Motor Company had been producing only remodeled designs of their 1942 automobile. Sleek and slab-sided with the trademark circle in the front grille, the 149 Ford broke from previous ideas of design and engineering. The 1949 Ford symbolized the companyís revitalization under Henry Ford II, who had taken over for his grandfather in 1945.
The 1949 Ford Custom Wagon is also referred to as the 1949 Ford Custom woody Station Wagon. Itís great popularity with California Surfers has resulted in widespread identification with this group of sportsman.
---